Climbs and Inverts' Clinic Workshop with Julanne Barry
Open Level
3/3/2018 at 2pm till 3.30pm
Do you want to dedicate more time to learning and perfecting your technique and form?
Are you feeling confident in your climbs and inverts but looking to refine your movement up (and down) the pole ready for a competition or performance?
Or maybe you are looking to expand your repertoire of climbs with something a little more unusual?
If the answer to any of these questions is 'Yes' then Climbs and Inverts Clinic is for you! We will work on standard climbs and inversions to ensure that all details are gorgeous and effortless, but we will also introduce new and unusual climbs into the mix – challenging you with movements that will impress both friends and competition judges!
We will be working on techniques for both static and spin pole.
£30 per person
The Anatomy of the Heels Workshop with Julanne Barry
Open level
3/3/2018 at 4pm till 6pm.
Ballerinas have pointe shoes, figure skaters have blades, and pole dancers have heels. In this workshop, you will learn about the anatomy of your shoe, the different parts of your heels and ankle stability and strength. With this knowledge, you'll be able to create a smoother, stronger and more exciting style of movement. At the end of this workshop, you will learn a basic routine to help build the strength that you need for more difficult heelwork. Movement does not simply translate from bare feet to heels, and using heels without the proper technique can look sloppy. Confidence and know-how is what makes you look sexy in heels, so strap on that 7" and lets learn about the anatomy of your heels!
£30 per person
Finding Your Freestyle® was originally conceived by Tracee Kafer, who regularly teaches this inspirational class at Body & Pole in NYC. Tracee is also one of the founding co-directors of improvisational pole dance company Pole Speak.
You can find out more about Finding Your Freestyle® and Tracee's mission & vision at www.findingyourfreestyle.com <http://www.findingyourfreestyle.com/>
Maybe you don't invest enough time in your freestyles, or maybe you do and you just want more? This workshop is designed to give you the tools and freedom to go deeper and further in your freestyle movement practice.
Become more confident in your own body and learn how YOU love to move in a supportive environment focused on the individual and the collective enjoyment of dance.
This workshop will be taught by Julanne – the UK's only licenced Finding Your Freestyle® instructor – check out her profile here:
http://www.findingyourfreestyle.com/about/fyf-team/
Finding Your Freestyle®️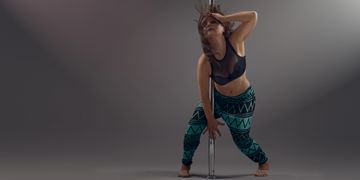 In this workshop Julanne will take you through a guided warmup followed by assignments designed to enhance body awareness and emotional and physical expression. These exercises will define and refine your movement style, and evolve the way you approach and interact with the pole. Learning to experience freestyle as a practice is a personal investment in transforming your mind, body, and spirit on and off the pole.
There is a limit of 6 people for this 2hour workshop
Please book here £30 per student.